For the past few years, I've found running to be a decent way of shifting some weight (slight aside, since the age of twenty, I've been the classic yo-yo when it comes to weight – between 11.5 and 17 stone, depending on what the dice spell out in any given week). The only problem is that it can sometimes be hard to motivate yourself to go for a run. Excuses are very easy to come by: the weather, needing a sandwich, hangovers, the sniffles, Emmerdale's on, Christmas, not really feeling like it today, bone-idleness, needing a poo… Basically it's much easier to not run than it is to run. Which is one of those really obvious things that someone who could write probably wouldn't be writing.
He that is good for making excuses is seldom good for anything else.  – Benjamin Franklin
Pretentious quote – check.
"Don't Break The Chain"
I've been interested in Seinfeld's don't break the chain 'productivity secret' for a while now, it makes sense to me and is simple enough to follow. And I'm now, a year in, convinced it can and does work. At the beginning of the year I decided to see how many days I could go running without breaking the chain. The only rule of the running streak was that every day I had to go at least 1 mile. The only tool I needed was the brilliant joesgoals – it's not the slickest or best looking app, but it does one thing and it does it well. And reasonably consistently (I do see the odd Coldfusion error screen now and again).
The running streak itself started reasonably inconspicuously, a couple of days, a week, two weeks  – no bother. But then I got to a month – and this was now a 'thing', it was at a stage now where people were asking if I was still 'streaking', and there was a pressure to keep going. And it got bigger, and bigger – 90 days, 6 months. I started only recording binary milestones – 64 days, 128 days, 256 days – because monthly was now too often to brag about, and I can't help but be a geeky attention-seeker. The pressure to not cock up was overwhelming – some of the hangovers I ran through were ridiculous, but by now, that I was going to run – come rain, shine or coma – was a given.
It is said that it takes 21 or 66 days to form a habit, dependant on who you ask – but I guess it was a fair bit longer than that before it was a really natural thing for me to do each day. Now however, I find it as weird a feeling to have not run as I do to have not brushed my teeth. Not that my feet grow fur or anything.
The Perils Of Running Streaks
Is streak running for everyone? Probably not – running alone is reasonably high impact and  not taking a break does increase the risk of injury. The US Streak Running Association have a very good post that explains the risks and everything that goes with the hobby far better than I ever could. In every exercise regime, rest is required in order to allow muscles to recover – so in a typical week, I have one or two one-milers, which I consider rest runs – they take less than 10 minutes and exist to keep the discipline enforced and my running streak going.
You also have to be realistic and listen to your body – I've had to cut runs down due to suspicious aches in my shins. And I've also always had to be prepared to break the streak, it's better to let an injury heal before you start a new streak than try to run through an injury and be out for a year. Luckily, that hasn't come up yet – because while this sort of thing is very easy to type, when an injury does occur, I'm not sure my ego will find resetting that magic number so simple a task.
Yay! Go Running Streaks!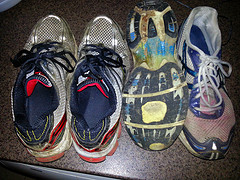 That warning aside, running has been one of the few constants in my life this year (yeah, this is where the introspective, self indulgent bullshit stuff begins – bet you're glad you read on now, eh?). Despite changing jobs and cities – among many other things – running has kept going alongside all of that stuff, regardless. It has been something to turn my attention to, something to set goals against, something that has given me a continual sense of achievement, and something to force myself out of the house in order to clear my head. It has been great, both physically and otherwise.
Speaking of achievements, at the beginning of the year I set a target of 500 miles, figuring most of my runs would be in the 1-2 mile mark. But due to training for the Great North Run, my mileage was upped considerably and I ended up hitting 1124 miles on my 365th day. Not too shabby.
So yes, with all this in mind, I would say that starting a streak of any type gives you an incredible impetus to get a task done, and I would recommend it to anyone with a goal to achieve of any sort. Running is a great way of staying active and keeping your head in check, I'd recommend that too.
I was going to post about my goals for 2013 here, but that seems to have developed a life of its own and should hit this website in the next week. Cheers for reading this far – and if you haven't had enough of my self-indulgent running bollocks, I post updates on dailymile and I sometimes natter on about it on twitter.
Edit / Addendum
Allan Whatmough asked on Twitter:
http://twitter.com/allanw/status/286835193174716416
Which raises a great oversight in this post – how do I not forget the odd run? Well I prioritise the run as the first thing I do everyday. I don't eat, I have a glass of water if I'm dehydrated (always sure to hydrate if I was drinking the night before), and then I just run. I find it hard to run with food in my stomach anyway – I'm just conscious of it being there, so I guess this system works pretty naturally for me. Even long runs don't justify food yet (15 miles is about the longest I've ever gone). I guess this is a similar solution to disciplining myself as saver's use to make sure they 'pay themselves first' – which I'm sure works nicely.